Why is your pricing more affordable compared to other companies ?
At FreshMade Professional, we value honesty and transparency.  Our pricing is never artificially inflated. It is our intention to ensure that best quality ingredients are affordable for everyone; from those trying their hand at oils for the first time to seasoned essential oil users and lovers.
We are a non-MLM (Multi-Level Marketing) company, We only sell to other retail stores and directly to you! We have zero middle men. There is no need to sign up or become a "member" to benefit from our fair pricing. We do not have special "membership plans". Those sort of business models often end up increasing the cost of products for everyone. There are no additional markups for "distributors" or other marketing systems. 

The buyer we have partnered with has ongoing relationships with leading quality suppliers all over the world, they purchase in high-volume during the peak harvest season when prices are optimal. This allows us to pass on substantial savings to our customers, as well as offer special pricing for our wholesale accounts. 
Are your oils therapeutic grade?
FreshMade Professional`s natural oils are 100% pure, free from any additives, adulterants or dilutions. Our essential oils are rigorously tested and meet the highest standards possible. No pesticides, synthetic chemicals, herbicides, GMOs or harmful chemicals are ever used during any stage of the growing or distillation process. Our trusted suppliers strictly follow to all USDA food/product safety guidelines. Our Partner does GC/MS (Gas Chromatography Mass Spectrometry) tests on each of our essential oils and reports are available on request. These reports give the breakdown of the naturally occurring components found in any given oil ensuring the absolute highest quality. 
Since there is no agency that oversees the quality of essential oils, so there is no specific standard that qualifies as 'Therapeutic Grade'. When looking for the highest quality oils, don't look for terms such as 'Therapeutic Grade' since any company can use this term. Since there is no actual third party grading or certifying of essential oils, it is best to look for a company that ensures the quality of their oils based on test results and experts. We believe in standing behind the quality and purity of our oils without using marketing labels, and so we have decided not to use this term on our products. Please head on over to our "Honest Promise" page to read more about what we do to guarantee our oils are of the highest quality.
Can your essential oils be used internally?
We do not recommend the general internal use of essential oils. There are several reasons why we cannot recommend essential oils, in general, for internal use. FDA regulations state that promoting any substance as being safe for internal use suggests that it is a food, supplement or medication and essential oils have not been deemed any of these things. Our 100% pure essential oils are highly concentrated, and have the capacity to cause serious damage if used internally without the necessary expertise required in administering them. We believe it can only be done with great respect for the power of essential oils, under the direction of someone who is qualified in the internal use of essential oils and someone who truly understands the chemical makeup of each individual oil. We do not know what medications, quantities and allergies you may have and want to be certain our customers are safe. That being said, many of our loyal customers use our oils internally since they are the highest quality available, but we leave that entirely up to each customer.
What is the shelf life of your essential oils?
Many essential oils do not have expiration dates. Essential oils like Patchouli and Sandalwood actually get better with age. In general, citrus oils have the shortest shelf life, followed by herbs and floral oils, then woods and resins, of which can become enhanced through time on the shelf. This is very general, and truthfully, as long as you take care of your essential oils by storing them properly (consistent temperatures with little light), it's not likely you'll need to concern yourself about them losing potency.
Are your Essential Oils certified organic?
Our essential oils and  fall into 3 categories; certified organic, organic (non-certified) and wild-crafted. The wild-harvested oils are not cultivated and therefore ineligible for certification. We only work with distillers who wild harvest from "clean," unsprayed areas. We also do carry a line of USDA certified organic oils.
Should the fact that some of our essential oils are not "certified organic" bother you? It should not, and there are several reasons why we are not pushing to get the certification for some of our essential oils. We, at FreshMade Professional believe in sourcing essential oils and other natural products where they are best suited so that they are of the highest quality. This means the essential oils occasionally come from plants grown in different countries, which don't have organic standards such as USDA certified organic seal because each country has its own rules around organic practices. Moreover, although farmers living in third world countries might choose to farm without the use of pesticides, their products might not be considered organic because of costs associated with certifications. In some cases, a certified organic farm of an essential oil might not even exist at all. We rely on our relationship with our supplier and the distiller and knowledge of their good practices to ensure that the product is grown organically.
Secondly, not all products that USDA considers organic are 100% pure or unadulterated. Why? Because according to USDA organic standards, "a raw or processed agricultural product sold, labeled or represented as 'organic' must contain… not less than 95% organically produced raw or processed agricultural products." This means the remaining 5% could be synthetic components and the essential oil would still be considered organic. Having the "Certified Organic" label, therefore, does not guarantee the best possible product.
 We only buy essential oils distilled from organically grown plants. In fact, while the USDA'S certification process only relates to growing conditions and end contamination levels, we also takes the methods of distilling and producing an essential oil very seriously, which ensures our products are 100% pure, unadulterated with all the natural ingredients and therapeutic properties that occur naturally. 
Where do your essential oils come from?
Our oils come  from some of the world's finest distillers. We have a direct buying relationship with the buyer of a carefully vetted network of harvesters, farmers, distillers and the most reputed certified suppliers from over 65 different countries across the globe. All our producers are dedicated to purity and only grow or wildcraft plant material nurtured using organic growing practices. They are required to meet the stringent, unyielding quality benchmarks before we consider buying from them.
You can easily determine the Origin of any essential oil on the bottle or in the detail description on o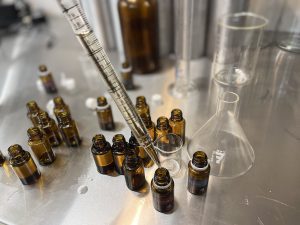 https://freshmadeprofessional.com