Ceylon Cinnamon Essential Oil Organically Crafted
Our organically crafted Ceylon Cinnamon Leaf Essential Oil is steam distilled from the spicy green leaves of the small Cinnamomum zeylanicum evergreen tree, also known as the True Cinnamon tree, growing wild in the forests of Sri Lanka. Reminiscent of a freshly baked apple pie, this spice essential oil has a stunning spicy, resinous, warm, radiant, woodsy aroma. Cinnamon Leaf Oil is one of the most recognizable essences even among those unfamiliar with aromatherapy.
Famous for: pain and chronic inflammation relief, Ease, and comforting of muscles and joints, supporting healing and immune response to fungal, viral, and bacterial infection, energizing sluggish mind, and stimulating body
Spicy | Warming | Cleansing | Stimulating
Organically Crafted Ceylon Cinnamon
Pungent, spicy and warming, Cinnamon Leaf Essential Oil is helpful with pain and inflammation management, especially for conditions like chronic inflammation. Applied topically in extremely low concentration in a carrier oil, Cinnamon Leaf Oil assists in restoring ease and comfort to tired, fatigued or overworked muscles and joints. Cinnamon nourishes and restores the body's own ability to produce a healing response. Along with helping to support pain and inflammation management, Cinnamon Leaf Essential Oil is a powerful immune support and can help reduce the presence of unwanted fungal or viral activity. Diffusion of Cinnamon Oil can energize a sluggish mind and can be useful to inspire creativity, to awaken the senses and to stimulate the appetite.

Emotionally and energetically, Cinnamon Leaf Essential Oil warms and inspires. This essential oil fosters greater self-confidence and increases self-assurance. Due to the inherent strength of this essential oil, Cinnamon Leaf Oil is often used to provide additional emotional support and increase energy when one is feeling exhausted or run down mentally. Cinnamon Leaf Oil can also be used to create a sensual atmosphere, because of its potent aphrodisiac properties.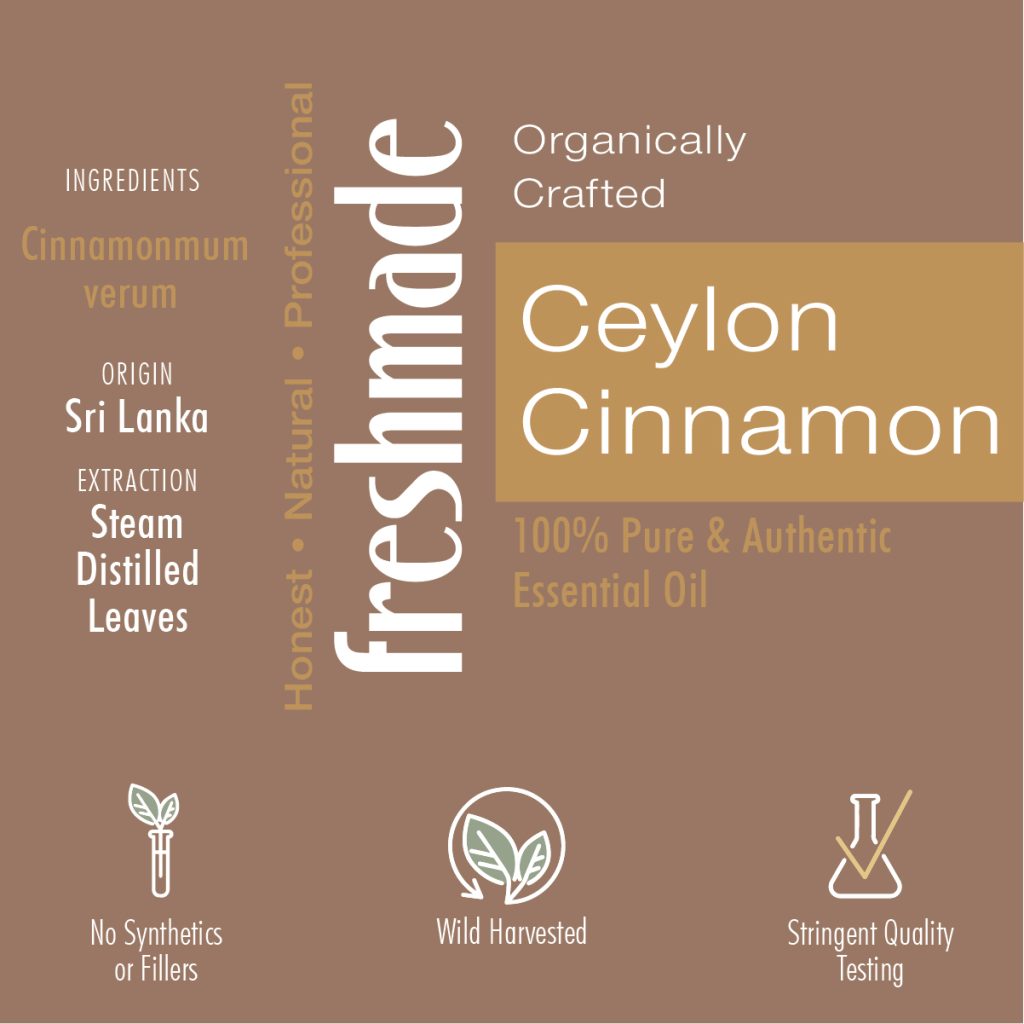 I actually have been putting a few drops onto a stack of toothpicks and sealing them up in a zip lock bag overnight to create flavored antimicrobial toothpicks…
Increase Energy | Inspire | Gain Strength
warm and clearing room sprays

holiday aroma room spray

warming, muscle and joint rub

drops onto passive diffusing potpourri or pinecones to refresh rooms

potent anti-bacterial and fungal cleaning products

drops in a Simmer pot on the stovetop for air purifying 

a small amount in mouth care products 

create flavored wooden toothpicks 

potent anti-bacterial and fungal cleaning products

diffuse in the air to energize and focus