Deep Retreat Essential Oil Blend Organically Crafted
Sometimes you just need a reset. Emotions ever take over and you need to give yourself or (someone you love) a timeout? Usaully a nap does the trick, but there is not always time for a rest. We formulated this gorgeous blend to give you the retreat you and your family need wherever you are, so you can get back at it with feet on the ground. This also amazing for promoting radiant skin health and wound healing.
Famous for: deep sleep, emotional rest, raw nerves, calming stress response
Peace | Relaxation | Stress Relief | Tension | Sleep
Organically Crafted Deep Retreat Blend
Signature Healing Blend-
Rosemary, HELICHRYSUM (IMMORTELLE) OIL, Rose Geranium Essential Oil, for Easing mental pain and tension, calming soothing and healing skin conditions, repairing and restoring damaged tissue, cooling and soothing cramping and migraines, burns, rashes.
French Lavender Oil can help during various phases of a woman's reproductive health especially during menopause and boasts the rare ability to soothe the stressed nerves and emotions provoked by the hormonal cycle. It is a natural sleep aid and useful for promoting overall skin health and radiance.
Benzoin Resinoid is used to deeply cleanse and soothe skin, add shine to hair, stimulate blood flow and ease aching muscles. It is known to alleviate stress while promoting positive thinking and relaxation. Especially potent at bedtime, Benzoin Oil can help its users fall asleep and sleep deeply.
Roman Chamomile  Endowed with an overall calming effect for the stressed mind and tense body,  is highly valued for its potential to ease muscle spasms and to reduce minor pain and inflammation. It is also excellent for sleep support, as it is profoundly calming and so welcome during times of situational anxiety or depression. It is highly sought after for its remarkable calming and restorative properties. With a chemical profile full of esters and other calming constituents, Roman Chamomile Oil can be helpful in soothing the systems of the body.
Myrrh Essential Oil Emotionally is often used during stress to create a relaxing and uplifting atmosphere. It can help relieve nervous tension and bring about feelings of strength. It can also help with overthinking and stabilize a distracted mind.
Frankincense Carterii- encourages emotional healing, support reflection, and introspection, and bring peace and calm, especially times of chaos. It has a deep, rich, grounding aroma which touts the ability to quiet the mind, support focus, and encourage tranquility.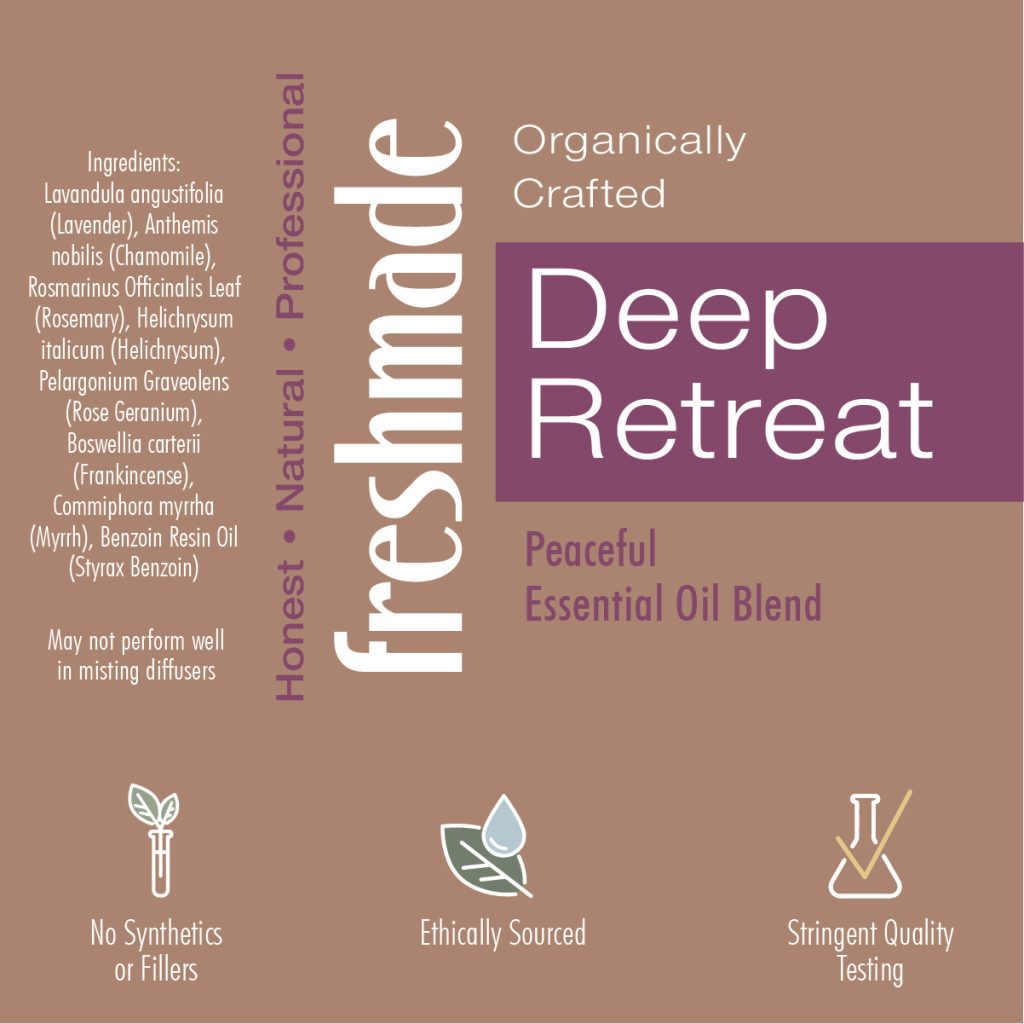 I`m obsessed with making room spray out of deep retreat essential oil blend. It makes my entire home smell like a spa.
Excellent natural aroma oil perfume- add 5-15 drops (depending on your strength preference)  into an empty roll-on bottle and finish with  FreseMade Essential Blending  Oil 
Luxury Bath Soak: Mix 10-15 drops with equal amount of FreshMade Essential Oil Mixer then add to ¼ magnesium flakes or epsom salt  pour into warm water and soak for at least 20 min.