Five Thieves Essential Oil Blend Organically Crafted
FreshMade`s special version of this essential oil blend  is well known to reduce stress, function as a broad spectrum immune booster, be highly antimicrobial, anti-fungal, antiviral and antibacterial, purify the air, and provide effective protection against airborne pathogens.
Famous for: supporting lung and airway activity, colds, allergies, boosting energy and circulation, soothing joints and muscles, stress relief, cleansing
protection against airborne pathogens
Organically Crafted Five Thieves Blend
While we didn`t invent the combination of these herbs together, we did formulate ours with a bit of a kick. However the the "Thieves" story is a classic among essential oil enthusiasts, and for good reason!
Our favorite version of the "Thieves" story dates back to 1413. During the 15th century bubonic plague in Europe and Asia, four European thieves made it a habit to rob the deceased of anything of value. These bodies were highly contagious with the plague, which begins with severe flu symptoms and then continues with the bacteria infecting the blood system, usually ending in death (it is estimated 150 million people passed during this four year pandemic). However, these nasty villains never contracted the plague. It was reported that they wore hats and masks that smelled of vinegar and garlic and herbs and spices, namely cloves, lemons, cinnamon, eucalyptus, and rosemary.
A French version also involves the thieves. These robbers were caught and jailed for robbing sick or vulnerable people, but never caught the deadly plague. They were to be burned alive for their crimes, but their judge told them he would spare them that if they would share how they avoided the plague. The thieves said that they were perfume and spice merchants who lost their livelihoods because of the thorough devastation of the disease. They combined cloves, lemon, cinnamon, eucalyptus, and rosemary and applied the blend to their hands, ears, feet, temples, and on a mask that they wore over their mouth.
Then they went out and about and committed their crimes, protected from the very infectious illness. Once the judge learned of their secret (and shared it among all he knew), he did spare them the punishment of being burned and he them hung instead.
The combination of these herbs and spices, especially when concentrated to an essential oil, contains properties that are antimicrobial, anti-fungal, antiseptic, and antiviral – and it smells great, too! The combined scent is a warm, comforting feeling.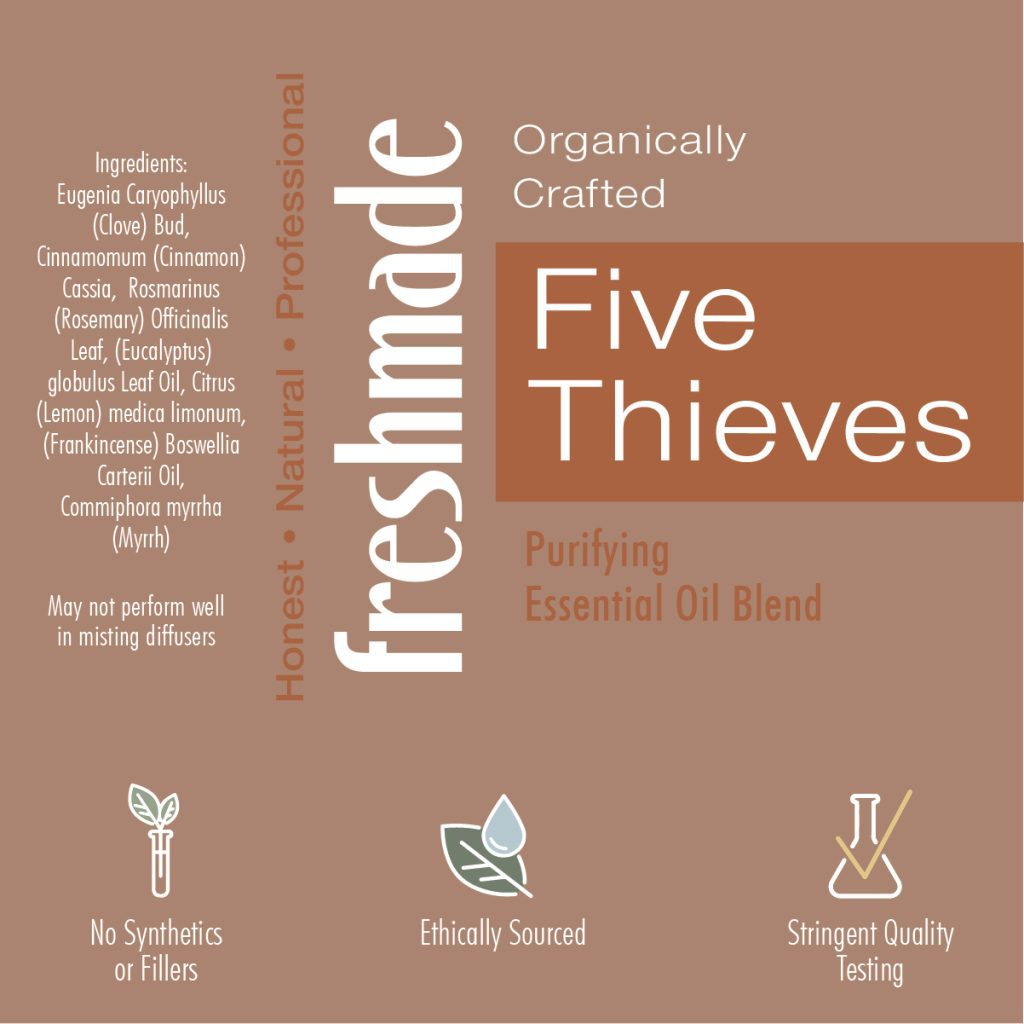 I love Thieves EO in my car and purse at all times! Fabulous for freshening up in between errands or using before grabbing a bit to eat on the run.
Breathing Support | Stress Relief | Energy Boosting
Anti-Microbial Properties
Anti-Microbial Properties – 

A
2017 study 
found that low concentrations of cinnamon and clove oil had high antimicrobial activity against persistent cultures of
Borrelia burgdorferi
, the causative agent of
Lyme disease
.
A 2018 study found that vapors of cinnamon oil inhibited the growth of respiratory pathogens like Haemophilus influenzae and Streptococcus pneumoniae in a petri dish. But eucalyptus oil had little activity.
A 2012 study showed that eucalyptus oil had antimicrobial activity against two types of bacteria that can cause disease in humans: Escherichia coli (E. coli) and Staphylococcus aureus (skin infections). 
Overall, fewer studies have been performed on lemon oil. But two studies from 2019 observed that it has some antimicrobial properties.
Wound Healing –

A
2019 study
 in mice found that topical application of cinnamaldehyde, a component of cinnamon oil, promoted wound healing. It also reduced the amount of bacteria in wounds infected with
Pseudomonas aeruginosa
. 
A 2018 study in rats found that a specialized emulsion preparation containing eucalyptus oil promoted wound healing. 
Pain relief –

A
2019 study
 in mice looked at potential pain-relieving effects of eucalyptus oil. Researchers found that injecting or inhaling eucalyptus oil might be effective in relieving some types of pain.
Effects on mood –

A very small
2013 study
investigated the effects of inhaling rosemary oil on mood. By recording and comparing body changes such as heart rate, blood pressure, skin temperature, and other physical measures, researchers concluded that rosemary oil had a stimulating affect. 
In the same study, researchers also found that participants who inhaled rosemary oil felt fresher or more active. Increases in respiratory rate, heart rate, and blood pressure were also observed.