Lemon Peel Essential Oil Organically Crafted
Our organically crafted Lemon Essential Oil is cold pressed from the bright yellow rinds of freshly harvested Citrus limon fruits cultivated in sunny orchards of Indian countryside. With its bright, refreshing, magically sweet, lemony scent, Lemon Oil is a welcome addition to the essential oils collection of both the perfumers as well as aromatherapists.
Famous for: strong antioxidant activity and anti-aging effects, purifying, reducing cell and tissue damage, lifting depression, and easing emotional tension, encouraging focus
Cleansing | Uplifting | Energizing | Brightening
Organically Crafted Lemon Peel
Like most other citrus peel oils, Limonene is the dominant constituent of Lemon Oil, with a dozen other refreshing terpenoid volatiles at low concentrations that nonetheless lend a zesty bite to the overall aroma. Our Lemon Essential Oil is Furocoumarin Free (FCF) – safe to use in skincare with no photosensitizing effects. FCF (furanocoumarin-free) is an acronym used to indicate that the chemical compounds responsible for extreme sensitization of the skin to sunlight has been removed.
Lemon Essential Oil is often used in DIY cleaning products that harness the purifying nature of Lemons to effectively cleanse and brighten a space. Along with being an exceptional choice for cleansing and purifying, Lemon Oil is a strong choice for formulating blends that reduce bacteria and help purify minor infections as well as reduce pain and inflammation. Lemon Essential Oil is commonly used in cosmetic products as well, especially those related to skin care. It has strong antioxidant activity and anti-aging effects; and is effectively able to reduce cell and tissue damage in the skin that's caused by free radicals.
Emotionally and energetically, Lemon Essential Oil brings an element of sparkle to a blend and can help lift a cloud of depression or ease emotional tension. It has an extremely calming effect, especially when added to a diffuser and used for aromatherapy. Lemon Oil can also help with mental alertness and improving concentration. It has the ability to refresh the mind by creating a positive mindset and eliminating negative emotions.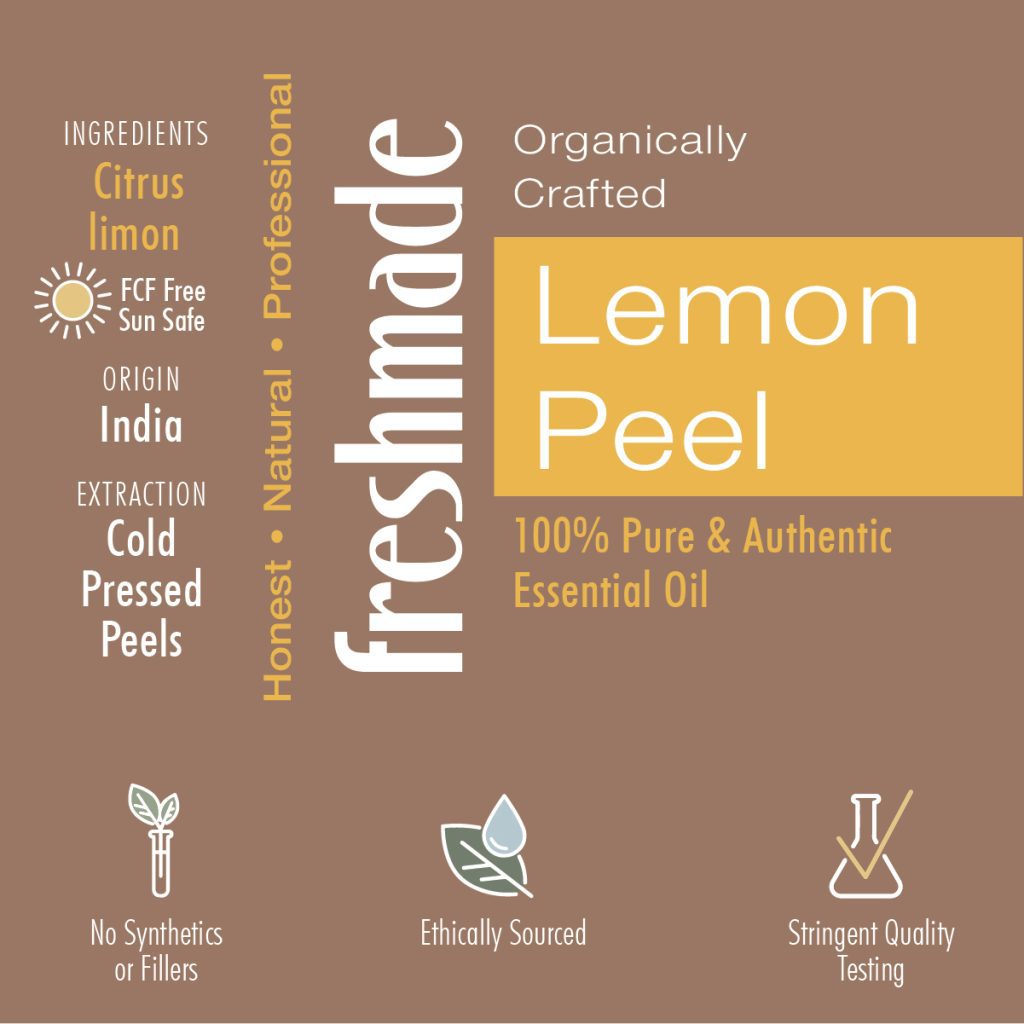 I keep a spray bottle of diluted essential oil in my kitchen at all times for sanitizing my cutting boards, It gives me just the lift I need to keep up with the dishes….
Skin Brightening | Varicose Veins | Purifying
To effectively eliminate airborne pathogenic droplets in a room, Diffuse for 30 min with the door closed. Leave the door closed an additional 15 min, then air out

up-lifting cleansing bathroom spray

create a shine-enhancing hair oil

kitchen purifying cutting board spray

use 1-2 drops to remove oil, gum, adhesives, and crayons from most surfaces

create a brightening leather purse or furniture cleansing balm 

potent anti-bacterial and fungal cleaning products

diffuse in the air to energize and focus